Braun Oral-B ProfessionalCare 5000 / 5500 3D Excel Power Toothbrushes
Affordable Braun OralB 3D Excel Technology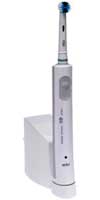 Oral-B Electric Toothbrushes
Oral-B ProfessionalCare 5000 Series with unique 3D brushing action, gently cleans deep and removes stains for whiter teeth and fresh breath.
ProfessionalCare 5000 Series Benefits
As gentle as a soft manual toothbrush on teeth and gums
Cleans better than a manual toothbrush.
Assists in preventing gum disease - the number 1 cause of tooth loss
Superior tooth whitening power: removes plaque and stains to whiten teeth.
Improves the health of gums by reversing gingivitis
Angled neck reaches back teeth
Rechargeable power: environmentally safe with no batteries required
Charge lasts 7 days when brushing twice daily
ProfessionalCare 5000 Series Features
7,600 Oscillating movements per minute!
20,000 Pulsating movements per minute!
OralB Indicator Technology: bristles fade it is appropriate to replace the head
Pressure Sensor: stops pulsations if it detects too much brushing force
Greenish Blue FlexiSoft bristles bend upon exposure to water - this provides a brushing action that is as gentle as the softest of manual toothbrushes
Memory Timer: tracks brushing time so that you know when you've brushed at least 2 minutes - the optimal amount of brushing
Anti-slip grip: keeps the brush handle where it's supposed to be - in your hand!
Water-resistant handle
2 year warranty
ProfessionalCare 5000 (Model D15511) 3D Plaque Remover Solo/Personal Includes Additional Features:
Memory Timer
1 FlexiSoft brushhead
ProfessionalCare 5500 (Models D15525 and D15535) 3D Plaque Remover Includes Additional Features:
Memory Timer
Charging base with tower for ventilated storage holds up to three brushheads
Model D15525 includes: 2 FlexiSoft Brushheads
Model D15535 includes: 3 BrushHeads

1 InterspaceŽ Power-Tip Brushhead - cleans inter-dental and hard-to-reach spaces
2 FlexiSoft Brushheads
---
Buy the ProfessionalCare 5000 Series Brushes Here:
---
Braun Oral-B ProfessionalCare 5000 Series Details
The 5000 series line of power toothbrushes uses Oral-B's 3-D Excel Technology - a unique "3-dimensional" brushing action that cleans your teeth by combining two brushing motions: pulsations and oscillations. The in-and-out pulsating movements (20,000 per minute) loosen embedded plaque, while the side-to-side oscillating movements (7,600 per minute) brush the plaque debris away from your teeth.
The electric powered technology nails plaque and gingivitis before they become a problem. It is truly a better way to brush your teeth.
ORAL-B: Dental Floss | Manual Toothbrushes | Replacement BrushHeads | Electric Toothbrushes | Battery Power Toothbrushes | All OralB