3M ESPE, part of 3M, is a global leader in restorative, preventive and cosmetic dental products. The 3M White & Brite Tooth Whitening System is used by dentists throughout the United States.
Common Name(s): 3M

---
Abreva is the only non-prescription medication approved by the FDA that is proven to shorten the healing time cold sores and fever blisters. It utilizes a unique formula that speeds up healing while protecting healthy cells against infection.

---

Amber Sun by Norvell creates innovative tanning products for each phase of your personal self-tan ritual. Their products include sunless tanning sprays and lotions, body exfoliators, tan maintainers, and more.
Common Name(s): Norvell

---

Amino Genesis products utilize 17 amino acids derived from plants to create beauty items that help to achieve the healthy, youthful looking skin you want. The revolutionary skincare formula is the result of over 40 years of research and development.
Common Name(s): Amino Genesis, DermaScyne

---

Aquafresh makes numerous dental care products for children and adults that include items like Iso-Active and whitening toothpastes.

---

Since 1992, Archtek has been creating innovative dental products including boil and bite dental trays, dental cases, denture accessories, and more.

---

Arm & Hammer's toothpastes, whitening boosters, and toothbrushes aim to provide effective cleaning, brightening, and odor eliminating products to help individuals get a whiter smile.
Common Name(s): Spinbrush

---

Aveeno combines nature and science to create skin care products that leave skin looking and feeling smoother, softer, and healthier. Their products have been recommended and endorsed by dermatologists for over 60 years.

---

Biotene is the most dentist recommended Dry Mouth Therapy (Xerostomia). Its bio-active enzymatic therapy works with your body to fight dry mouth naturally. Products include toothpaste, mouthwash, gum and spray as well as Oral Balance Gel and Liquid.

---

blinc is dedicated to creating beauty products that are innovative and perform exceptionally. Their products utilize concepts that offer a dramatic improvement from pre-existing beauty solutions, placing them among the best in the world.

---
A professional breath management system used by dentists accross the country. Breath Rx products are alcohol-free and sugar-free with unique ingredients such as Zytex and Xylitol - which have been designed to fight the bacteria that cause bad breath.
Common Name(s): Breath Rx

---

BriteSmile professional teeth whitening products are designed to whiten teeth safely and effectively when used as directed. Products include whitening pens, toothpaste and mouth rinse. In office products include laser whitening.
Common Name(s): Brite Smile, Bright Smile, BrightSmile

---

Sunstar ButlerGUM manufactures toothbrushes and interdental products used in the prevention of tooth decay and periodontal disease. Items include ButlerWeave, EEZ-Thru, FlosBrush, FlossMate, Go-Betweens, Implant Care, Proxabrush, Red Cote & Rincinol.
Common Name(s): Butler, GUM, Sunstar Butler

---

Cavex Holland BV has been a manufacturer of high quality dental care products for more than a century. Their product range includes impression materials, hygiene products, take home whitening gels, and much more.

---

Clarisonic creates sonic skin cleansing systems and brush heads to help effectively and gently cleanse skin. Their systems and heads utilize sonic technology to help remove impurities that traditional methods may leave behind.

---

CloSYSII Breath Care products include rinses, toothpaste, breath spray and tongue cleaners. CloSys uses a patented formula that is free from toxins, alcohol and chemicals like SLS to gently control halitosis and maintain quality oral health.
Common Name(s): CloSYSII

---

Colgate, one of the most trusted brands in America, brings nearly 200 years of experience to its oral care products. Products include Colgate Total, 360 degree toothbrush, Visible White, Phos-Flur, PerioGard, Orabase for Canker Sores and many others.

---

ContrastPM, from Spectrum Dental, is a line of high quaility tooth whitening gels. ContrastPM Plus with potassium nitrate is specifically formulated for sensitive teeth. ContrastAM, their strongest gel, is designed for use with bleaching lights.
Common Name(s): Spectrum Dental, ContrastPM Plus, ContrastAM

---

COOLA is a luxury organic sunscreen company with product lines for the face, lips, body, and sports. Each one of their unique products is created with 70-97% certified organic ingredients.
Common Name(s): COOLA Suncare, COOLA Organic, COOLA Organic Suncare

---

Looking for Crest products? Find everything from WhiteStrips to the Intelliclean Crest powered toothbrushes right here. Crest toothpaste sets the standard for all other toothpastes.

---
Crest Glide Floss is the most recommended brand of dental floss by US dental professionals. Crest Glide Floss comes in Deep Clean or Comfort Plus variations. Glide also offers Floss Tape and Floss Picks.

---

Crest Whitestrips® Tooth Whitening. The flexible, virtually invisible strip holds the whitening ingredient against the teeth long enough to get at stains beneath the surface.
Common Name(s): Crest White Strips

---

Curaprox is a Swiss oral health brand that specializes in many innovative, yet classic, dental products. Their unique product line includes toothbrushes, charcoal toothpastes, and other oral care accessories.

---

Day White Bleaching Gel is a powerful hydrogen peroxide based teeth whitener. It is the strongest gel available for take home use. With up to 85% less wear-time - it can't be beat.
Common Name(s): DayWhite, Day White Excel, Day White ACP

---

DenTek has been producing innovative dental products for over 20 years. Dentek creates professional products as well as items designed for kids, such as Fun Flossers and the iSee Lighted Toothbrush.

---

DentistRx is an electric toothbrush and brush head manufacturer that was founded by a group of dental professionals to develop products that enhance oral care and promote overall health.

---

DermaSwiss makes quality Swiss skincare products that aim at maintaining skin's youthfulness by preventing premature aging. They utilize Swiss Alpine plant derivatives and biotechnology to create anti-aging products rich in vitamins and nutrients.

---

Dr. Fresh produces a line of high quality yet affordable oral and personal care products. Dr. Fresh's TEK and FireFly products, such as the Float-N-Firefly Toothbrush, are unique kid friendly products that make children want to brush.

---

Dr. Grandel is a family-owned German company that was founded in 1947. They manufacture a wide range of high quality brand-name natural health and beauty products.

---

drTung's creates oral care products for children and adults that are natural and effective. By using only natural ingredients and flavoring in their innovative products, they are successful at keeping your mouth healthy and safe.
Common Name(s): drTungs, Dr Tungs, Dr Tongue

---

Fake Bake enables you to achieve that perfect tan without the sun. It not only provides a rich tan, but also moisturizes, hydrates, and protects the skin without clogging pores or irritating sensitive skin.

---

FarmHouse Fresh develops skin care products that are all 88% to 99.6% natural. Each vitamin-rich product they create is paraben and sulfate free, with many also being gluten free and/or vegan.

---

GC creates dental products that are both patient friendly and environmentally friendly. These products are designed to exceed a patient's needs and help improve their overall oral health.

---

Glacial White has been creating whiter smiles in dental offices for years. Now the same accelerated blue light technology and professional strength gel formulation is available for home use.

---
Glo Science produces an innovative light based whitening system for use at home. Their professional whitening gels use the patented G-Vial applicator for easy application on custom trays or directly to the teeth.
Common Name(s): GLO Science

---

Gly-Oxide Liquid cleanses and soothes canker sores, improves overall dental health, and eliminates odor-causing bacteria. Its unique formula helps to promote better healing from mouth sores, minor wounds, and small oral inflammations.

---

GumChucks is the only flossing system of its kind. Resembling miniature nunchucks, they feature disposable tips that are connected by a piece of dental floss. The unique two-handle system increases dexterity and control.

---

HydroPeptide is a leader in the area of peptide based anti-aging skincare and cosmetic goods. Their wide range of products aid in the restoration of depleted collagen to help skin look more youthful.

---

iBrite creates teeth whitening systems that utilize hydrogen peroxide for effective whitening results for both home and dental office use.

---

Ilike Organic Skin Care from Szep Elet creates natural skincare products made in small batches from organically grown fruits, herbs, and vegetables. Its heritage comes from Hungary and the nutrient-rich ingredients used in their skincare products.
Common Name(s): ilike organic skin care, szep elet, Szep Elet

---

Conair Interplak products include Water Jet Oral Irrigators, Opticlean Power Plaque Removers and Electric Toothbrushes. Battery-operated and rechargeable models available. Interplak products feature rotary and counter-rotational cleaning systems.
Common Name(s): Conair

---

KissAble creates dental care products designed specifically for pets. To provide the best oral health solutions to each individual pet, their diverse product line includes items from toothpaste and toothbrushes to probiotic spray and dental wipes.

---

KollagenX is a cosmetic company that creates anti-aging products that utilize Nano Gold Technology (NGT). Their line of skincare products nourish the skin to help restore it to a youthful radiance and appearance.

---

Quantum Health LIP CLEAR® Super Lysine+ Cold Sore Ointment and ColdStick products reduce the duration of coldsores by 50% or more - providing immediate, soothing relief with no burning.

---

Listerine, originally known for their antiseptic mouthwash, now produces a range of products from toothpaste to whitening systems. Some of their products include the Listerine Fluoride Rinse, Whitening Pen, and Whitening Quick Dissolving Strips.
Common Name(s): Listerine Whitening

---

LUMIBrite uses carbamide peroxide to create fast acting whitening gels available in convenient take-home kits.

---

LumiSmile utilizes carbamide peroxide to create fast acting whitening gels available in convenient take-home kits. The whitening gels feature potassium nitrate to help minimize tooth sensitivity.

---

Mesoestetic relies on research and development to find scientific solutions to skincare and aesthetic problems. Their innovative anti-aging products focus on the care, treatment, and beauty of the skin.

---

Natural+ Ltd. is a UK owned and operated oral health company that specializes in teeth whitening. Their team has over 25 years of experience in the oral care industry, enabling them to understand the needs of those seeking whitening results.

---
Neutrogena is the 1 dermatologist-recommended skincare brand, and offers some of the world's most popular beauty and skin care product lines, including: Ageless Essentials®, Body Clear®, Norwegian Formula®, Neutrogena Clinical™, and more.

---

Nite White bleaching gels have been a staple of the dental office for over 10 years. Their reliable carbamide peroxide technology whitens safely and effectively for consistent results. Next generation Turbo formula sets the bar even higher.
Common Name(s): NiteWhite, Night White, Nite White Excel, Nite White ACP, Nite White Turbo

---

Olay Regenerist, formulated with exclusive Olay Amino-Peptide Complex, beautifully regenerates skin's appearance, without irritation, by renewing its outer layer one cell at a time. The result is skin that looks, feels and behaves more like new skin.
Common Name(s): Olay Regenerist, Olay Body

---

Opalescence was the first ADA accepted, syringe delivered, take-home bleaching gel. Carbamide peroxide is used with custom tray technology to provide high quality results each time you bleach your teeth.
Common Name(s): Opalesense, Opalecense, Tres White

---

OraFilm Strips begin to dissolve instantly and provide immediate oral pain relief from Canker Sores, Sore Gums, Braces and Dentures.

---

Orajel creates oral care products that help relieve toothache pain, canker and cold sores, dry mouth, and bleeding gums. They also have children's products that range from training toothpaste for toddlers to teething pain relief for babies.

---

Removing plaque on a daily basis is crucial to keeping your teeth and gums healthy. Braun Oral-B power toothbrushes, with their oscillating-rotating technology, have been clinically proven remove plaque and prevent gum disease. Try one today!
Common Name(s): Braun Oral-B, Oral B, OralB

---

Makers of Perfecta whitening gels including REV!, Ultra, Trio and Bravo. The new Perfecta REV! can whiten teeth in 15 minutes!
Common Name(s): Perfecta REV, Perfecta Bravo

---

Peroxium is a low sensitivity, high strength tooth whitening system. Made with a 22% carbamide peroxide viscous formula for easy application.

---

Plackers Flossers and Piks by PLACONTROL - flossing aids with TUFFLOSS - a dental floss engineered not to stretch, shred or break. Flossers are interdental cleaners that allow flossing without hands.

---

Southern Dental Industries' Pola line of products includes Pola-Day, Pola-Night and Pola-Zing tooth whiteners, Pola-Soothe desensitizer and Pola-Paint, a paint on tooth whitening gel.
Common Name(s): PolaDay, PolaNight, PolaZing, PolaPaint

---

Polident makes denture cleaners. These solutions are designed to effectively eliminate stains, plaque, & odor causing film without scratching dentures. Their unique formula kills 99.9% of bacteria.

---

Toothbrushes cater to special needs of infants, and persons with disabilities that prevent them from using a conventional brush. The DexTBrush is for people with limited dexterity. The Infant Toddler Safety Toothbrush Training Kit is for newborns.
Common Name(s): DexTBrush

---

ProTech is a manufacturer and distributor of quality dental products, dental laboratory supplies, and operatory systems. Their products are devoted to the production, repair, and upkeep of removable prosthetic devices for professionals and consumers.
Common Name(s): ProTech

---

REACH® offers a line of oral care products designed to give consumers the brushing and flossing tools they need to keep their entire mouths clean.

---

Relief ACP Desensitizing Gels from Discus Dental. Part of the Flouridex family.

---

Rembrandt offers rinses, toothpastes and bleaching gels for whitening teeth.
Common Name(s): Rembrant

---

Revitin is the world's first prebiotic natural toothpaste with a formula of vitamins, enzymes, and minerals to clean teeth, encourage beneficial flora growth, and support a healthy oral microbiome. The oral microbiome is key to immune system health.

---

Rotadent is a professionally recommended electric toothbrush brand that can help make homecare of teeth more effective. Rotadent is a one-step solution to significantly improve the effectiveness of brushing routines without changing brushing habits.

---

Sensodyne creates products gentle enough to be used by individuals suffering from hypersensitivity, but that are still effective enough to clean, whiten, and strengthen teeth.

---

Sheer DesenZ produces desensitizing film strips that use 12mg of Potassium Nitrate to safely and effectively relieve oral pain and discomfort sometimes associated with teeth whitening, dental procedures, and hypersensitivity.

---
Sheer White! produces whitening film strips that use 20% Carbamide Peroxide to safely and effectively whiten teeth. The innovative design prevents the film strips from slipping or sliding out of place, allowing for use during the day or over night.

---

Shiro Whitening is dedicated to creating innovative teeth whitening kits that utilize advanced Shiro Blue Light LED Whitening Technology. The kits are designed to whiten teeth in just minutes a day.

---

Smilox is the premier provider of at-home professional whitening systems and oral care accessories. Our customer service, outstanding dental lab work, and quality products exceed standards to provide you with the best whitening at the lowest cost.

---

Health and Beauty gifts for everyone in the family. Find gift ideas for every occasion.

---

Snore Guard is a small device used while sleeping to help avoid the restriction of the air passage by the jaw and tongue. It keeps airways open and clear to prevent snoring.

---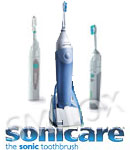 The effectiveness of Sonicare stems from its sonic technology, which creates dynamic fluid cleaning action. Clinically proven to whiten teeth and freshen breath, these brushes are a must for achieving the best possible oral health at home.
Common Name(s): Philips Sonicare

---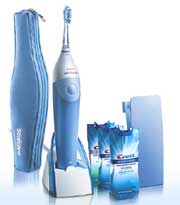 Sonicare and Crest have teamed up to provide a one of a kind brushing experience. Crest toothpaste flows smoothly and evenly through the pulsating bristles of a Sonicare Power Toothbrush for a professional clean every time.
Common Name(s): Sonicare, IntelliClean

---

Soniclean rechargeable and battery powered toothbrushes utilize sonic technology to clean teeth with up to 34,000 strokes per minute. Their variety of high quality brush heads enable users to customize their daily brushing experience.

---
Spry is a line of high-quality oral care products made with the natural sweetener, xylitol. Their diverse product line includes gum, mints, toothpaste, and more.

---

StaiNo produces a line of tooth stain remover products for consumers. The brand produces a range of consumer products from toothbrushes to floss. A few of their popular products are Floss 'n Toss, Ortho Stix, and the StaiNo Toothbrush.

---

Sun Laboratories creates innovative self tanning products to give you the healthy glow and radiant look of sun-kissed skin without the damaging rays from the sun.
Common Name(s): Sun Labs

---

Super Poligrip makes a range of denture adhesives for everyday denture use. To satisfy everyone's unique needs and preferences, there are three styles that they produce: creams, powder, and strips.
Common Name(s): Poligrip, Super Poligrip Free

---

Super-Dent Deluxe Instruments are handcrafted in England of the highest quality corrosion-resistant stainless steel. Each instrument is triple heat-treated and individually hand finished for optimum performance and durability.
Common Name(s): Super-Dent, Super Dent

---

Supersmile whitening products include mouthrinse, accelerator and toothpaste. SuperSmile Toothpaste uses CALPROX - a proprietary bleaching ingredient to remove bacteria and safely whiten teeth.
Common Name(s): Super Smile

---

TePe is a family-owned Swedish company that manufactures oral hygiene products including interdental brushes, toothbrushes, specialty brushes, dental sticks, and floss.

---

The Answer is an oral solution clinically shown to improve oral health. Originally designed to assist medically compromised and elderly users, its benefits are now being realized by users of all ages interested in improving their oral health.

---
The Natural Dentist is committed to offering a full line of oral health products free of sodium lauryl sulfate (SLS), alcohol, and other harsh ingredients. Their toothpastes and oral rinses are natural, safe to use, and effective.

---

Special Flosses. Interproximal toothbrushes and interdental cleaners with larger diameter spongy section that automatically gets narrower with elongation force.

---

At Toms of Maine, Natural Care is a way of life. Tom's All Natural Dental products, such as toothpaste and mouthwash, are free of artificial dyes, sweeteners, and preservatives. Try SLS-Free Natural Whole Care & Flouride-Free Homeopathic Whitening.
Common Name(s): Tom's, Toms of Maine

---

Trident Dental Laboratories is a pioneer in the dental industry that creates innovative dental products utilizing the latest technological advancements.
Common Name(s): Tri-Clean

---

Venus White is a professional take-home whitening system formulated to let you whiten your teeth during the day or night. Venus whitening gels have many of the characteristics of Opalescence gels.
Common Name(s): Venus White, Venus Smile

---

VIOlight utilizes germicidal UV technology to create products that sanitize and store toothbrushes at home or traveling. The sanitizers eliminate harmful bacteria including e.coli, the H1N1 virus, and salmonella, keeping you and your family healthy.

---

VOCO is an international leader in the manufacturing of dental materials and products. They create oral care products for desensitizing, fluoridation, prophylaxis, and teeth whitening.

---

Waterpik WaterJet Oral Irrigators clean gingival areas for healthier gums. Clinical results show Waterpik Ultra Dental Water Jet cleans 3 times deeper than brushing alone and leaves your mouth cleaner and more refreshed.

---

Xylishield makes a complete line of oral health products that feature an all-natural sweetener called xylitol that helps to protect teeth from the bacteria that cause tooth decay.

---

Zilactin is a line of oral care gels that aid in the treatment of canker sores, fever blisters, and gum irritations. These gels form a bioadhesive that promotes healing and helps relieve pain.
Common Name(s): Zilactin-B

---

Whether you Zoom in the office or at home - Zoom! bleaching gel is clinically proven to whiten up to 6 shades after only 3 nights of use. Zoom is fast, safe and available at your convenience.
Common Name(s): ZOOM

---