Sonicare Electric Toothbrushes
The effectiveness of Sonicare stems from its sonic technology, which creates dynamic fluid cleaning action. Clinically proven to whiten teeth and freshen breath, these brushes are a must for maintaining a healthy smile.
Sonicare's results are backed by over 85 published studies.
---

Sonicare's FlexCare System provides a complete brushing solution, including monitoring brush times and sanitizing your brushhead with UV, but its sonic power is what truly makes it the best electric toothbrush.
---

DiamondClean is Sonicare's most innovative and advanced brush ever. It delivers up to 31,000 brush strokes per minute to remove 100% more plaque than a manual toothbrush in hard-to-reach areas.
---

Sonicare For KidsŪ is the first-ever Philips Sonicare power toothbrush for pediatric patients. It is specifically designed for parents to teach children ages four to ten to brush effectively and then transition them to independent brushing.
---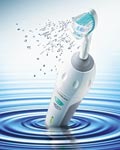 Sonicare's Elite line of electric toothbrushes uses patented sonic technology to remove plaque, reverse gingivitis, and naturally whiten teeth.
---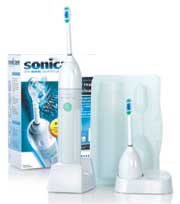 The Sonicare Essence series has the same basic features as the Elite including a slim, angled neck and ultra high speed, contour-fit bristles. These models do not include detailed battery guage or dual-speed control found in the Elite series.
---

Brush heads for Sonicare FlexCare, DiamondClean, Elite, Advance, Essence and Intelliclean.
---