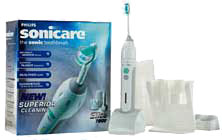 Sonicare Electric Toothbrush
Clinically proven to whiten teeth and freshen breath, Sonicare electric tooth-brushes are a must for maintaining a healthy smile. Sonicare has been shown to provide superior plaque removal, reduce coffee, tea and tobacco stains, and reverse gingivitis - it's guaranteed! Read more...

Sonicare Advance
The Sonicare Advance has the patented sonic technology, high-speed bristle motion and dynamic fluid cleaning action that made it an instant hit with users and the #1 choice of U.S. dental professionals. Sonicare Advance models are some of the most powerful and affordable electric toothbrushes available today.

Sonicare Elite
Introducing the next generation sonic technology. The patented sonic technology of the Sonicare Elite combined with the latest in brush head design, creates dynamic cleaning action that removes plaque, reverses gingivitis and naturally whitens teeth. Its new slim angled neck, tapered brush head and contour-fit bristles provide an unparalleled level of comfortable cleaning especially in those hard to reach places. Sonicare Elite is significantly preferred by US dental professionals when compared to Braun Oral-B 3D Excel (based on in-home use test results among dental professionals expressing a preference). Sonicare Elite models are the most advanced power toothbrushes in the market.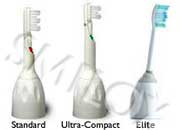 Sonicare Brush Head Replacements
It may not look worn, but if it's been 6 months, it's probably time to replace your brush head. If you use braces, you should replace it every 4 months. A special program offered by Sonicare allows you to have a new brushhead sent to you every 3-6 months!
Brush-heads for Elite Series
Sonicare Guarantees Results
Use Sonicare for 28 days. If you are not 100% satisfied for any reason, Philips Oral Health Care will give you a complete refund without any questions.
Satisfaction Guarantee Information
Warranty Information

Sonicare/Crest IntelliClean System
The IntelliClean system from Sonicare and Crest is a truly powerful combination which provides a deep cleaning that's one step closer to daily flossing.* This is the first integrated sonic toothbrush and liquid toothpaste dispensing system, combining the patented Sonicare high-speed bristle motion with a new specially formulated liquid toothpaste from Crest.

Sonicare Essence
If you want the slim, angled neck, contour-fit bristles and ultra high bristle speed found in the Elite, but without a complete range of special features, Sonicare Essence is for you. It's a sensible way to benefit from the superior sonic technology of Sonicare. These brushes still have a number of Sonicare helpful features – Easy-start, Smartimer and a recharge indicator. The 5500 also includes Quadpacer and an extra brush head.