Braun Oral-B AdvancePower Battery Powered Toothbrushes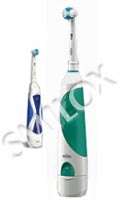 (400 / 400-Kids / D4 / 450-TX)
Clinically proven to whiten your smile!
Oral-B Battery Powered Toothbrushes
AdvancePower 400 Series Benefits
Cleans and polishes to remove surface stains and whiten your teeth.
Cleans better than manual toothbrushing
Compact brushhead hugs each tooth making it easier to clean those hard-to-reach areas where plaque hides
Reduces chance of gingivitis
Replaceable brushheads for convenience
AdvancePower 400 Series Features
9,600 Oscillating movements per minute!
FlexiSoft® Bristles: clean and polish teeth
Indicator® bristles fade halfway when it's time to replace your brushhead
Interdental Tip bristles: The unique elongated bristles on the outer edge help penetrate deep between teeth and along the gum line
Ergonomically designed handle with non-slip grip
Includes 2 AA batteries
2 year warranty
The AdvancePower 450 TX Includes Additional Features:
Stop-N-Go Timer: Signals you after every minute of brushing

Timer helps ensure a superior clean
Removes 25% more plaque by brushing an extra minute (2-min vs. 1-min)

Contoured grip
Dual color combinations
---
Buy the AdvancePower 400 or 450-TX Battery ToothBrush Here
---
AdvancePower 400 Details
Pamper your teeth and gums with the AdvancePower 400. It combines the power of a battery with the Oral-B Advanced Bristle System to remove more plaque than an ordinary manual toothbrush.
The proprietary oscillating brushhead technology with patented Interdental Tip bristles help you to brush even the most hard to reach areas of your mouth.
The AdvancePower 450 TX includes a StopNgo Timer - for achieving the dentist recommeded 2 minutes of brush time.
(Note: AdvancePower 400 was previously known as Braun Oral-B D4 Battery Toothbrush)
---
ORAL-B: Dental Floss | Manual Toothbrushes | Replacement BrushHeads | Electric Toothbrushes | Battery Power Toothbrushes | All OralB