Oral-B ProfessionalCare, AdvanceCare and Sonic Power Toothbrushes
<< Oral-B Products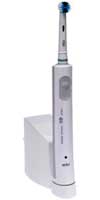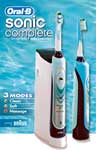 ProfessionalCare™ with 3D Excel Brushing Action
Gentle in and out pulsations combine with side to side oscillations yielding a 3-dimensional brushing action which loosens plaque and sweeps it away. ProfessionalCare series brush heads wipe away oral grime with 40,000 pulsating and 8,800 oscillating movements per minute - a whopping 660 movements per second! It's a dental-professional cleaning in the privacy of your own home.
AdvancePower™ with Oscillating-Rotating Toothbrush Technology
The AdvancePower 900 Series toothbrush uses a unique oscillating-rotating technology engineered by Oral-B which has been clinically proven to clean and whiten teeth, as well as improve gingival health.
Sonic Complete™ with Sonic powered Technology
Oral-B has produced a sonic based power toothbrush to satisfy those customers who would prefer to use this technology.
Braun Oral-B Power Toothbrushes:
---
ORAL-B: Dental Floss | Manual Toothbrushes | Replacement BrushHeads | Electric Toothbrushes | Battery Power Toothbrushes | All OralB