Oral-B Hummingbird™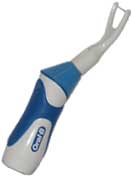 << Oral-B
Interdental Products
Flossing has never been easier. The Oral-B Hummingbird is a compact, battery-powered flosser that easily maneuvers between interproximal spaces and in hard-to-reach places like the back of the mouth. With a simple push of the button, Hummingbird gently vibrates so it feels amazing and gives you unmistakable benefits from day one.
It features an interchangeable power pick and flosser that gently vibrate to stimulate gums. No matter which attachment you use, the flosser or the soft mint dental pick, your teeth and gums will feel cleaner and fresher.
Hummingbird Features
2 Interchangeable Power Attachments: Soft Mint Dental Pick and Flosser
Flosser proven as effective as regular floss at reducing gingivitis
Removes plaque from hard-to-reach areas between teeth and below gingival line
Massaging vibrations make flossing easy and comfortable
One-use refill attachments
Portable: only 4-inches tall
Small: Can be used in one hand
Battery-powered, push button system (AAA battery included)
Non-slip, ergonomic grip for better control.
---
Buy the Oral-B Hummingbird™ Here
---
ORAL-B: Dental Floss | Manual Toothbrushes | Replacement BrushHeads | Electric Toothbrushes | Battery Power Toothbrushes | All OralB