Oral-B ProfessionalCare 7900 DLX OxyJet Center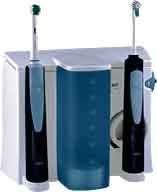 Oral-B Oral Irrigators
Combines the Oral-B ProfessionalCare 7850 and the Oral-B OxyJet Irrigator.
OxyJet Benefits
Supra-gingival irrigation prevents/reduces gingivitis
2 Jet Functions:

Mono stream: straight water stream for site-specific cleaning
Rotating stream: removes plaque and cleans below the gumline

Professional cleaning at home
OxyJet Features
Manual water pressure control
Water container stores 600 mL (20 fluid oz.)
Color-coded nozzles for differentiation
Includes Oral-B ProfessionalCare 7850
Hygenic storage for 4 water-jet heads and 4 brushheads
2 year warranty
---
Buy the ProfessionalCare 7900 DLX OxyJet Center Here:
---
ProfessionalCare OxyJet Details
The Braun Oral-B OxyJet irrigator mixes air into water in the form of micro-bubbles. These micro-bubbles in the water stream attack plaque bacteria. It removes remaining food particles from between your teeth and massages your gums at the same time.
Always use the irrigator after brushing your teeth.
---
More Information on the Oral-B OxyJet:
---
---
ORAL-B: Dental Floss | Manual Toothbrushes | Replacement BrushHeads | Electric Toothbrushes | Battery Power Toothbrushes | All OralB