Braun Oral-B Children's Power ToothBrushes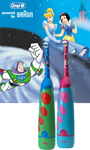 << Oral-B Products
Fun Brushing: Kids love to brush when it's fun.
The Braun Oral-B Kids' Power Toothbrush cleans better than a manual toothbrush - with a lot less coaxing.
The cool colours, the Disney characters, and the Mystery Musical Timer which rewards them with music after every minute of brushing - one of sixteen randomly selected tunes, keep kids surprised and having a good time.
Research has also shown that the Kids' Power Toothbrush is as gentle on children's teeth and gums as a soft manual toothbrush. The smaller brushhead allows for better access, the extra soft bristles for gentle cleaning, and the raised center row bristles for effective cleaning of the chewing surfaces.
Braun Oral-B Kids' Power Toothbrushes
Oral-B AdvancePower Kids
Oral-B Advance Power 900 Kids Toothbrush features cool colors and Disneyİ characters that kids love. This toothbrush is specially designed to help kids brush longer with the one minute EZtimer.
Oral-B AdvancePower 400 Kids
Oral-B AdvancePower 400 Kids brings the proven advantages of power brushing to children ages 3 and older. This product is specifically designed to meet the oral care needs of children and to make children want to brush their teeth.
---
ORAL-B: Dental Floss | Manual Toothbrushes | Replacement BrushHeads | Electric Toothbrushes | Battery Power Toothbrushes | All OralB